Environment protection has become the most important aspect in the present era of Sustainable development. With uncontrolled urbanisation, contamination of drinking water sources by sewage and septage has become a major threat to public health and safety. Direct discharge of sewage to the water courses for unsewered areas and discharges of septic tank effluents to the stream and canals polluted the entire water course.
Safe water supply and hygienic sanitation facilities are the two basic essential amenities the community needs on a top priority for healthy living. In developing world, sanitation has always been more unfortunate than its twin brother water supply. The water supply will have a measurable impact on health only if it is linked with sanitation facilities.
As per Order of National Green Tribunal, All States/UTs through their concerned departments such as Urban/Rural Development, Irrigation & Public Health, Local Bodies, Environment, etc. may ensure formulation and execution of plans for sewage treatment and utilization of treated sewage effluent with respect to each city, town and village, adhering to the timeline as directed by Hon'ble Supreme Court.The local authorities entrusted with environmental protection has little infrastructure to tackle this situation.  Kerala Water Authority being a statewide establishment with qualified and experienced personnel in Public Health Engineering, has taken up the responsibility of waste water management.
At present KWA is having only 4% coverage in the Sewage sector of the State and this vacuum has to befilled in a time bound manner. To cope with the emerging need of waste water management, A Sewerage Vertical wing has been created in KWA with Chief Engineer, PPD & WASCON as its head. The erstwhile Sewerage Circle office at Kochi with a Superintending Engineer, one Executive Engineer and two Assistant Executive Engineers has been now attached to this. In addition to this, the three circle offices of PPD Wing have also been designated to function as respective Sewage Circle offices at Thiruvananthapuram, Kochi and Kozhikode, in addition to the existing duties.
Superintending Engineer, Sewerage Circle, Thiruvananthapuram is having the jurisdiction of three districts; Thiruvananthapuram, Kochi and Pathanamthitta.  PPD Camp offices of these districts are now having additional duties of Sewerage. Similarly, Sewerage Circle office at Kochi is having the jurisdiction of 4 districts; Ernakulam, Kottayam, Alappuzha and Idukki.  Sewerage PPD Regional Office at Ernakulam has been re designated as Sewerage Circle, Thrissur and is entrusted with the Sewerage responsibilities of Thrissur, Palakkad and Malappuram districts. Sewerage activities of the districts of Kozhikode, Wayanad, Kannur and Kasargod is entrusted with the Sewerage Circle office, Kozhikode.
Investigation, planning, design and DER preparation of Sewerage projects is being taken up in this wing.
EXISTING SEWERAGE SCHEMES
Sewerage is by far the most essential among the available alternate options in sanitation. Majority of people in any urban area in developing countries including India are not in a position to meet the full financial cost of this facility. In the State of Kerala KWA is providing sewerage system partly in Thiruvananthapuram and Kochi.
THIRUVANANTHAPURAM SEWERAGE SCHEME (TSS)
The existing sewerage system in Thiruvananthapuram city region commenced in the year 1945 covering the then main areas of the city. Presently in Thiruvananthapuram Corporation area, 43 out of 100 wards are covered either partly or fully with sewerage system.
For convenience the city area was divided into 5 blocks which were commissioned in different periods and the details are as follows.
| Sewerage Block | Year of Commissioning | Covered area (Sq Km) |
| --- | --- | --- |
| A | 1945 | 13.84 |
| B | 1965 | 5.51 |
| C | 1970 | 4.12 |
| D | 1990 | 6.5 |
| E | 1994 | 13.06 |
| Total | | 43.03 |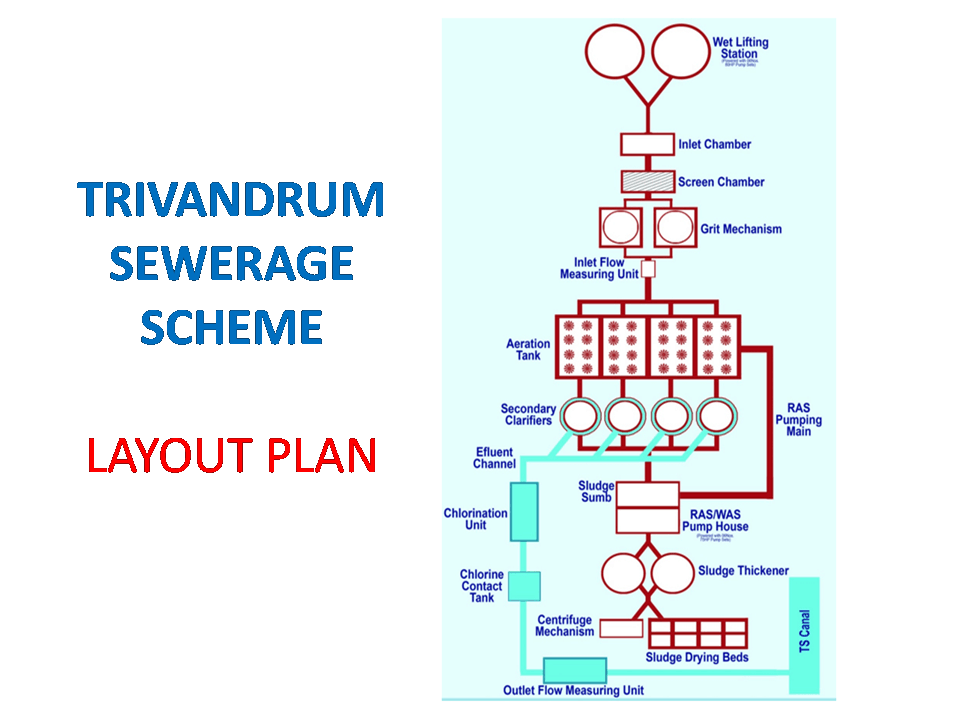 The details of blocks are as mentioned below
Sewerage system was first introduced in this block. The total area of the Block is 13.84 sq.km, and comprises the most important portions of the city such as Kowdiar, Vellayambalam, Thycaud, Thampanoor, Pazhavangady,Chalai, Manacaud, Puthenchanthai, Jagathy and Palayam. This block was commissioned way back in 1945. There are 3 lifting stations under this block at Thaliyal, Mudavanmughal and Arannoor. The main pumping station in this block is at Kuriyathy from where sewage is pumped to the STP at Muttathara.
The total area of the Block is 5.51 sq.km. It includes area of the city such as Sreekanteswaram, Pettah – East of Railway line, Rishimangalam, Vanchiyoor, Kaithamukku, Pattom Valley, Nanthancode, and Barton Hill, and the Block 'B' was commissioned in 1965.There is a main pumping station in this block at Pattoor from where sewage is pumped to Muttathara STP.
The total area of the Block is 4.12sq.km. and the block was partially commissioned in 1970. It covers the low lying area of the City which include Chackai, Pettah – West of Railway line, Palkulangara, South West corner of Fort area, Puthen Street, Sreevaraham, and Manacaud portion. There is a main Pumping Station at Enchackal from where sewage is pumped to the STP at Muttathara.
This block covering an area of 13.06 sq.km is divided into 4 sewerage zones as detailed below.
Zone-I:- Areas of Sasthamangalam, Kowdiar, Peroorkada and Mannammoola.This zone was first commissioned in 1994 and further extended in 2004;
Zone-II:- Areas of Maruthankuzhy, Vettamukku, Pangode, Edapazhanji, Chadiyara and part of Poojappura. Commissioning of Zone-II can be done after the land acquisition process is completed;
Zone-III:- This zone consist of Vattiyoorkavu, PTP Nagar, and Kanjirampara area. Land acquisition process has to be completed for the completion of the sewer pipe line laying works;
Zone-IV:- This consist of Valiyavila area. The work of this zone has not been started. Land acquisition work for the pump house site at Valiyavila is to be completed.
The area in Block 'D' is divided into two zones namely Zone- I & Zone- II which are located on either side of the National Highway.
Zone-I on East side of NH is further divided into two sub zones viz. (a) Kowdiar and (b)Ambalamukku-Muttada. Main sewers in Zone-I are Kowdiar Main,Ambalamukku Main, Muttada Main and Kesavadasapuram Main.
Zone-II on West side of NH is further subdivided into three zones viz.
(a)Kumarapuram-Kannammoola , (b) Kesavadasapuram-Ulloor and (c) Medical College.This block has four pumping stations. The Medical College lifting station catering to the needs of the Medical College Complex, Plamoodu lifting station and the Murinjapalam lifting station discharges sewage to Kannammoola pump house. The sewage is pumped to the STP  Muttathara from the pumphouse at Kannammoola.
Block 'D' was first commissioned in 1990 and further extended in 2004. Works to provide coverage to the unsewered area in Block D is in progress. Land acquisition works are also to be completed.
Status Of Coverage under 100 Wards in Thiruvanathapuram Corporation
Existing Covered area with sewerage facility full or Partial.
(43 wards)/(Blocks A to E)
Uncovered area - Design of sewerage network available
(35wards) )/(Blocks F to R)- Includes ongoing works under JNNURM and AMRUT
Uncovered area – New designs to be prepared
Kochi Sewerage system consist of a 4.5 MLD STP and a sewer network of around 28 km and having 650 no of man holes. It covers only 5 % of the city area.
In addition to above KWA is going to extend Sewer facility to Guruvayoor Muncipality with 3 MLD STP which is in commissioning stage. Also there are ongoing projects for providing sewerage facility to Kozhikkode with 27.5 MLD STP and Kollam with 12 MLD STP. Also a 5 MLD STP is under construction in Government Medical College Trivandrum under AMRUT.